If you're looking for some batik design inspiration, you've come to the right place! Batik is an entertaining, versatile art form that can be used to create all sorts of different designs.
You can create your batik design ideas for your DIY projects by using recreating simpler versions of traditional designs or making easy modern designs such as geometric and floral designs. It is a textile art that has been around for centuries, and there are endless possibilities when designing new patterns.
Here are 11 batik design ideas to get your creative juices flowing if you're looking for inspiration. So get ready to be inspired!
11 Batik Design Ideas
Traditional Designs
One of the great things about batik is that there are so many traditional designs to choose from. And some designs are not so complicated that you can draw some simpler versions of them.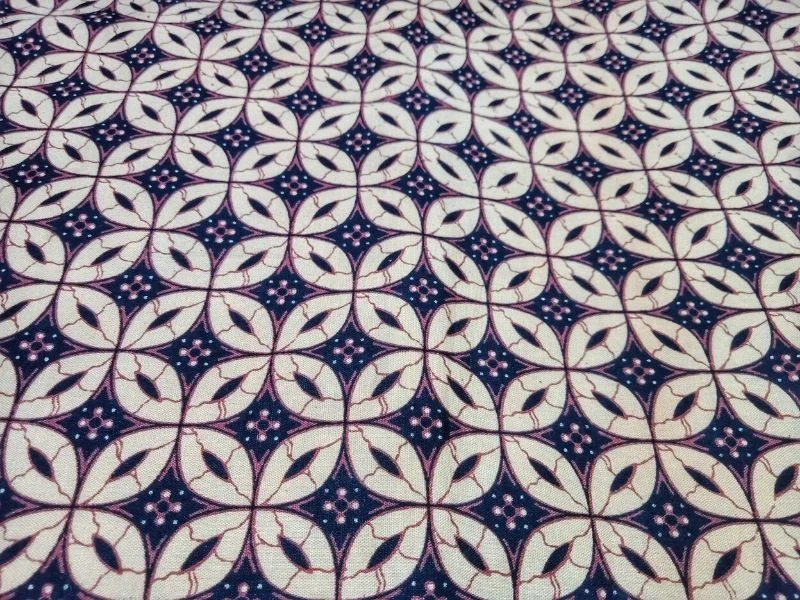 Several of the popular easy traditional designs are:
Parang Rusak
The parang rusak batik is one of the most popular batik pattern. The pattern shape is like a broken scimitar sword.
The beautiful motifs make this batik widely chosen for use. The meaning of the batik Parang Rusak motif is a picture of the human struggle against evil.
The fight referred to in the meaning of this batik is the ability of oneself to fight all bad things. Thus, it will make humans wiser and nobler. Because it has a deep meaning, it is unsurprising that many people like these contrasting colors batik.
Mega Mendung
Another popular design drawing is Megamendung batik, especially in the Cirebon area. This batik motif is unique, making it widely used by people.
Megamendung batik motifs are similar to clouds. This is following the name Mega which means cloud. In addition, there is also the word cloudy, which is defined as the nature of patience.
The gradation of this motif corresponds to the seven layers in the sky. Generally, Megamendung batik is blue. It's perfect for traditional interior design projects.
Kawung
The following popular pattern is batik kawung. This batik has an old motif and comes from the land of Java. Even though it has an ancient motif, this batik is still gorgeous when used on home decor. You can use it on clothes to enhance your appearance.
The kawung motif is a picture of the kawung fruit or sugar palm. The philosophy of this batik paint is also profound. Kawung batik has a philosophy of perfect self-control with a clean heart. And without any desire to do fun deeds during life.
Truntum
Truntum is a unique batik motif from the island of Madura. This batik has a very simple pattern but is still beautiful when used as clothing or interior decoration.
The meaning of this batik is also fascinating. The Truntum motif combines two parts: the flower and the star-shaped fruit. The flowers in the Truntum motif represent honesty, while the star-shaped fruit symbolizes purity of heart and mind.
Easy Batik Designs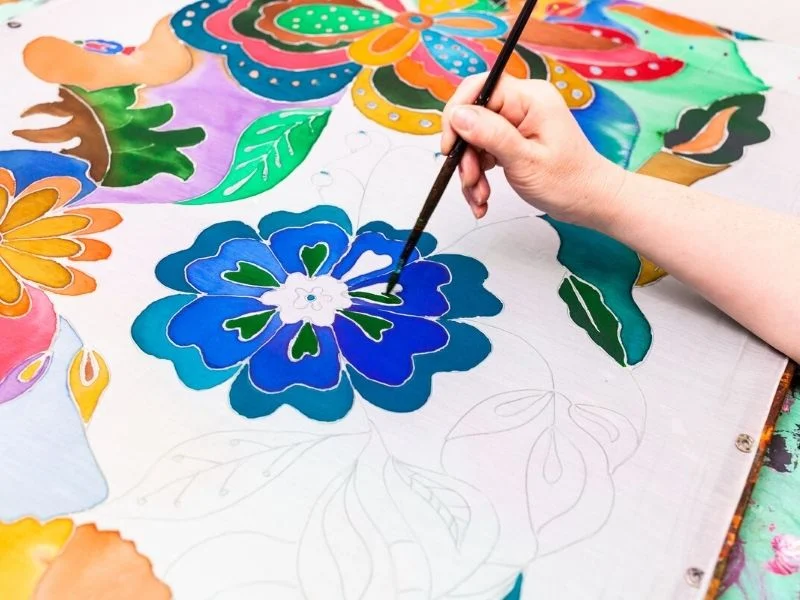 Geometric Shapes
This is an excellent option if you want something eye-catching and modern. It is a great way to add interest and complexity to your designs.
Try using a variety of shapes, and play around with different colors and textures.
Floral or Flower Designs
A classic choice, floral patterns never go out of style. Flowers are another popular choice, and there are endless possibilities for floral prints.
Abstract Designs
If you're feeling adventurous, why not try creating an abstract design?
This is a great way to experiment with color and form. And, you can let your imagination run wild!
Paisley Prints
Paisley prints are always elegant and sophisticated. They can be used to create various looks, from bohemian to formal. They're timeless and elegant and can be used in various styles.
Animal Prints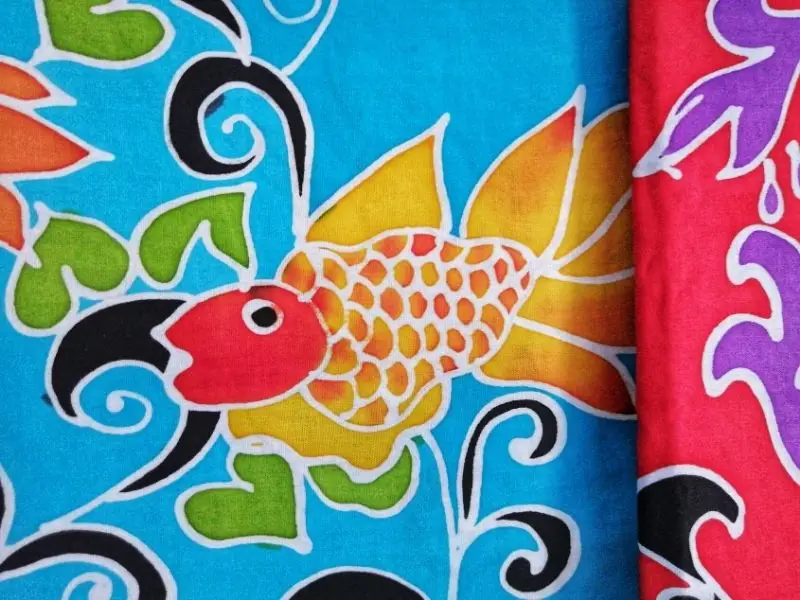 Want to add a bit of fun flair? Try incorporating animal prints into your craft.
Butterflies, birds, turtles, peacocks, fish, and elephants are some of the most popular animals for fabric designs.
But, you can use any animal that you like. Just be sure to choose colors that compliment each other.
Free Form Design Batik
This is a great way to add your own personal touch to your batik designs. Usually, the free-form designs consist of a combination of several motifs.
You can use your favorite colors and patterns to create a design that is uniquely yours.
You can use this technique to create any design that you can imagine. Just let your creativity flow, and don't be afraid to experiment.
Background Batik Cerah (Bright Color)
The last popular batik design is cerah background. This batik has very bright colors, perfect for festive events or interior decoration.
Cerah means bright or light in Indonesian. So, this batik is perfect for those who want to add a touch of brightness to their home.
This batik is also perfect for those who want to make a statement. The bright colors will turn heads and get people talking.
So, there you have it! These are just a few of the most popular batik designs. Which one is your favorite? Feel free to experiment with different colors, patterns, and techniques to create your unique fabric.
How to Make Your Design
This is your first batik project?
Start by drawing or painting a simple design on your cloth. This can be anything from a geometric pattern to a floral motif. Use natural materials like leaves and flowers to create beautiful designs. Here are the simple rules:
Once you have your basic design in place, add some extra details. Experiment with different shapes and patterns.
Start with a base color and add two more colors. Try using different colors and textures to create a unique effect.
Use bright and bold colors for a fun, vibrant look. Incorporate metallic elements for a glamorous touch.
How to Draw Batik Designs
The Traditional Way (with Wax)
The first step is to prepare the fabric. Wash it in hot water and then soak it in alum and water. This will help the wax to adhere better to the material.
Next, you'll need to create your design. You can do this by drawing directly on the fabric with a pencil or using a stencil.
Once you have your design, it's time to apply the wax. You'll need a batik canting (a tool used for applying wax) or a small paintbrush.
Dip your brush in the wax and apply it to the fabric, following your design. Be sure to apply a thick layer of wax so that it will resist the dye.
Now, it's time to dye your fabric. You can do this by submerging it in a vat of dye or by painting the dye on with a brush.
Once the fabric is dyed, you'll need to remove the wax. This can be done by ironing the fabric between two pieces of newspaper. The heat will cause the wax to melt and transfer to the newspaper.
Finally, wash your fabric in cold water to remove any remaining wax.
The Modern Way (without Wax)
You can still create beautiful craft if you don't want to use wax. All you need is a resist method and some fabric markers or acrylic paint.
There are several resist methods that you can use, including crayon wax, glue (batik glue), and tape. Simply choose the one that you're most comfortable with.
Once you've chosen your resist method, it's time to start creating your design.
Draw or paint directly on the fabric with your markers or paint.
Be sure to use bright, bold colors. The resist method will prevent the dye from penetrating the fabric, so the color you use will be the final color of your design.
Once you're happy with your design, it's time to add the dye. You can do this by submerging the fabric in a vat of dye or painting it with a brush.
Allow the fabric to dry completely. Once it's dry, you can remove the resist method. This will reveal your beautiful fabric.
So, there you have it! These are just a few ideas to get you started. With creativity and imagination, you can create any design you can dream up. So, what are
With Wall Stencils & Furniture Stencils
If you want a wall decor project, you can draw the pattern directly on your wall.
Using wall stencils
Start by sketching the design with a pencil. Once you're happy with the design, use painter's tape to outline the stencil.
Cut out the stencil with an X-Acto knife.
Now, it's time to paint. Use a small roller or brush to apply paint to the stencil. Be sure to use a different color for each section.
Allow the paint to dry completely before removing the stencil.
Future stencils
You can also use furniture stencils to add a batik design to your furniture.
Simply choose a stencil you like and tape it to the piece of furniture.
Paint within the stencil using a brush or roller.
Allow the paint to dry completely before removing the stencil.
DIY Project Ideas
Wall Hangings
You can use your batik designs to create wall hangings. Simply frame your fabric in a hoop or between two pieces of wood.
Pillows
Another great way to use your batik fabric is to create pillows. Sew the material into a pillowcase and add some batting for padding.
Coasters
Batik coasters make a great addition to any home. Simply cut out circles of batik fabric and sew them onto squares of felt.
Tablecloth
A batik tablecloth is a perfect way to add color to your dining room. Simply sew several batik fabrics to create a large piece that will fit your table.
Quilts
Batik quilts are unique and beautiful. Sew your batik fabric into squares and arrange them in any pattern you like.
For this project, you might need to make several designs with different colorings to make beautiful and unique quilts.
Wall Decors
With batik fabric, you can make lovely wall decors. You can use wall stencils to make different shapes and patterns on the wall.
Use simpler designs for this project so that the wall is not too crowded.
Planters
Add some color to your kitchen or living rooms by having batik motif on the planters.
Simply cover a plain pot with batik fabric using mod podge or another adhesive. Or you can directly draw on the planters with fabric markers or acrylic paint.
Kitchenware
Brighten up your kitchen with some colorful batik kitchenware. You can use fabric markers or acrylic paint to add designs to mugs, plates, bowls, and more.
Be sure to use food-safe products if you plan on using them for eating or drinking.
FAQs
What are the designs of batik?
Batik design has many characteristics, including ornate geometric forms, complicated symbols, designs, dots, nature patterns, and other features.
The batik motif traditionally included some dots or dotting with geometric patterns.
How do you draw batik art?
There are a few ways to draw batik art. You can use a pencil to sketch the design directly onto the fabric. Or you can use a resist method, such as wax or dye, to create your design.
Once you've created your design, you can add color by painting or dyeing the fabric.
What are the 4 different ways to make a batik?
There are four main ways to make batik: hand-drawn batik (batik tulis), stamped batik (batik cap), printed batik, and .
Each method has unique characteristics and results in a different type of batik textile.
What is modern batik design?
The modern batik design is a more contemporary take on the traditional fabric. It often features simpler, more abstract designs and colors.
What is batik in art and design?
Batik in art and design is a fabric decorated with a wax-resist method. This means the material is first coated in wax, then dye or paint is applied. The wax helps resist the color, creating a beautiful, patterned fabric.
What are two types of batik art?
The two types of batik art are the hand-written batik (batik tulis) and stamped batik (batik cap).
The hand-written batik is made by drawing the design onto the fabric with a wax pencil. The stamped batik is made by pressing a stamp into melted wax to create the design.
Was this article helpful?