Making a batik quilt is a fun and creative way to show your personality in your home décor. Not only is it a unique and interesting project, but it is also relatively easy to do.
This blog post will walk you through making a batik quilt pattern for beginners, which simple patchwork quilt as the easiest pattern to make. We will provide you with all the information you need to get started, including the supplies and steps involved in the process.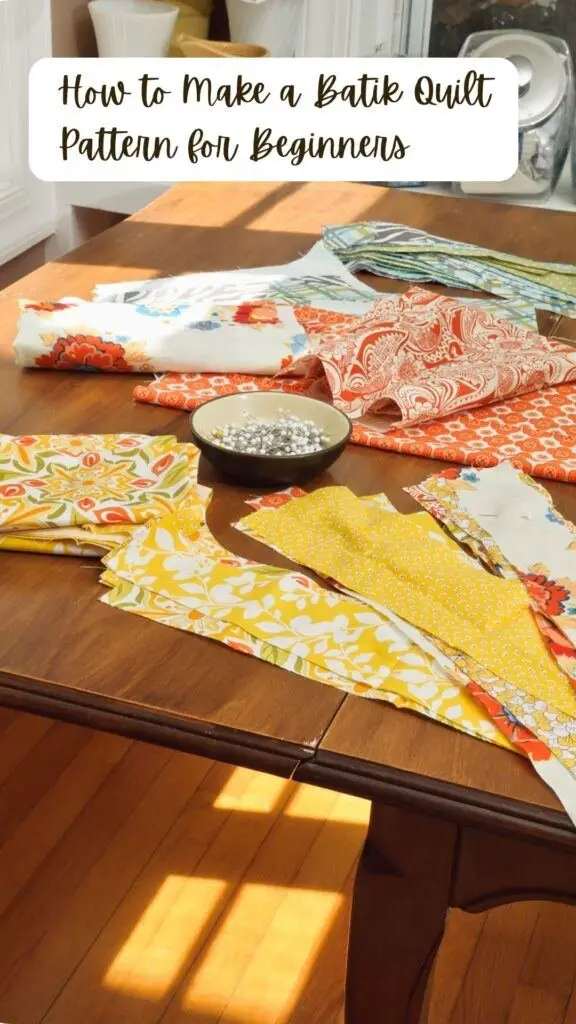 So what are you waiting for? Get started on your very own batik quilt today!
How to Make Batik Quilt Pattern for Beginners – Simple Patchwork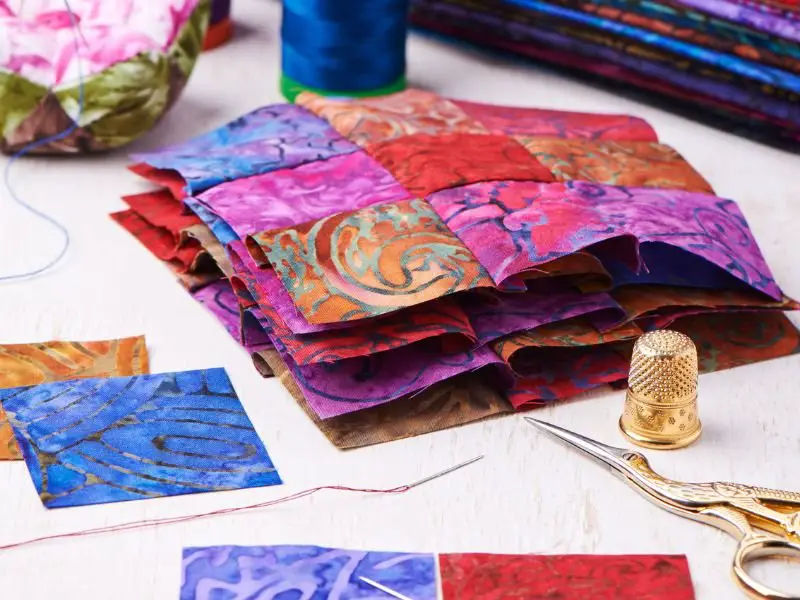 A simple patchwork quilt is one of the easiest quilts for a beginner. So let's try to make the batik quilt.
What You'll Need
Batik fabric in a variety of colors and patterns
Rotary cutter, cutting mat, and rulers
Sewing machine and thread
Batting and backing fabric
Creating the Quilt
Step 1 – Make the Quilt Top
Cut the batik fabric into squares or rectangles of varying sizes to create the quilt top. You can use a rotary cutter, mat, and rulers to ensure that your pieces are cut accurately and consistently.
Once you have a selection of fabric pieces, you can arrange them in a pleasing pattern on a flat surface.
When you are happy with the arrangement of your fabric pieces, you can begin sewing them together.
Start by placing two pieces of fabric right sides together and sewing them along one edge using a sewing machine and thread.
Continue adding more fabric pieces in this manner, sewing each new piece to the previously sewn pieces until you have created a quilt top that is the desired size.
Step 2 – Basting
Sandwich the batting between the quilt top and backing fabric layers.
Pin the layers together so they remain in place as you sew them together.
Trim any excess batting and backing fabric, leaving a few inches of fabric around the edges.
Step 3 – Quilting
Choose a quilting pattern for your batik quilt. You can choose detailed stitching to create intricate patterns on the quilt's surface, or you can choose simple lines of straight sewing if you want to focus more on the colors and textures of the fabric.
You can quilt the layers together using a sewing machine, or you can hand-stitch the quilt using a needle and thread.
Step 4 – Trim and Make Binding
Once the quilting is complete, trim any excess batting and backing fabric, leaving a few inches of excess material around the edges.
Cut some extra fabrics to make the binding.
Step 5 – Attach Binding
Use the extra fabric to create a binding for your quilt.
Binding involves folding over and sewing down one edge, creating a neat finish around the edges of your finished batik quilt.
Attach the binding fabrics around all four sides of your quilt, then sew the binding in place to finish your quilt.
When you are finished, you will have a beautiful batik quilt that is perfect for any room in your home.
Quilt Patterns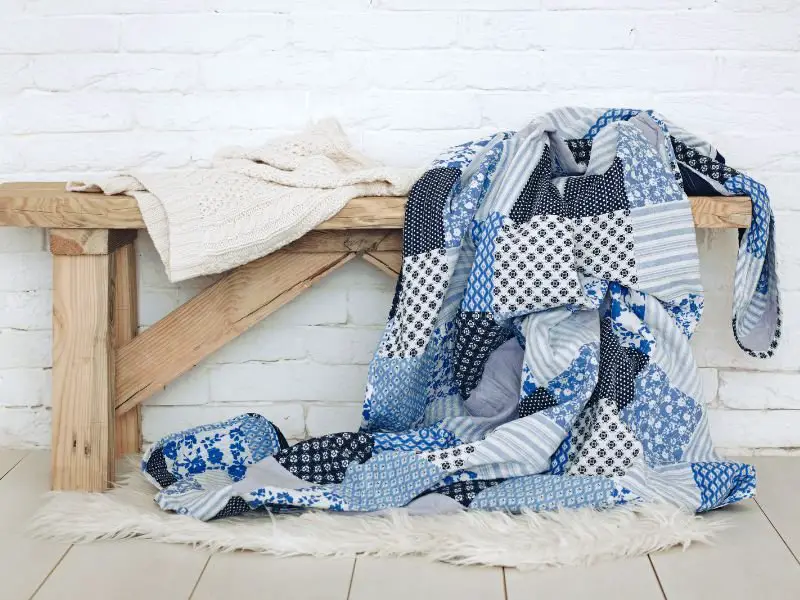 A quilt pattern is a design that is used to create a quilt. Quilt patterns typically consist of instructions explaining how to sew together pieces of fabric to create a quilt top and how to add batting and backing fabric to create the finished quilt.
Easy Quilt Patterns for Beginners
Many easy quilt patterns are suitable for beginners. Some common easy quilt patterns include the following:
The simple patchwork quilt pattern involves sewing pieces of fabric together in a simple grid pattern to create the quilt top.
A strip quilt pattern involves long sewing strips of fabric together to create a striped effect.
The checkerboard quilt pattern is made up of squares arranged in a checkerboard pattern, typically with two different colors.
The log cabin quilt pattern is perfect for beginner quilters, as it involves sewing strips of fabric onto a square or rectangular base fabric.
The four-patch quilt pattern comprises squares arranged in a grid pattern.
The nine-patch quilt pattern is similar to the four-patch but with an additional row and column of squares.
The rail fence quilt pattern comprises strips of fabric arranged in a zig-zag pattern.
Tips
If you're new to quilting, it's a good idea to practice your sewing skills before making a large or complicated quilt.
You may consider making several smaller quilts as practice before moving on to one large quilt.
Consider working on your quilting skills in an organized and focused way with the help of online tutorials, books, or quilting classes.
Always use high-quality batting when making your quilt, as this will help ensure that it is soft and warm.
When choosing fabrics for your batik quilt pattern, look for bold patterns and bright colors that are perfect for modern interior design schemes.
FAQs
How do you prepare batik for quilting?
To prepare batik for quilting, you'll need to wash and dry the fabric to remove any sizing or wax. You can then use a hot iron to fuse the fabric, and batting and stitch your quilt top together.
Make sure to use thin batting to get through your machine's needle.
Is batik fabric good for quilting?
Yes, batik fabric is a good choice for quilting. It's a cotton fabric dyed using a wax-resist dyeing process. The result is a beautiful, unique fabric with lots of character.
Batik fabrics are often colorful and patterned, making them perfect for quilting projects that need some added interest and pizzazz.
Is there a wrong side to batik fabric?
Yes. The dye-resist process used to create batik fabrics makes it difficult to color the underside of the fabric, which means that one side will always be lighter than the other.
Should you wash batik fabric before sewing?
Yes. The dye in batik fabric can sometimes run, so it's best to pre-wash it to avoid any unwanted staining.
Was this article helpful?