Do you have a few lovely batik fabric patterns laying around and don't know what to do with them? Have you ever been mesmerized by the vibrant colors, intricate designs, and detailed prints adorn this wondrous type of cloth?
What can you make with the batik fabric? Well get ready because I'm about to show you everything from DIY accessories to home decor projects and more! Whether you are a beginner sewer or an experienced quilter – there's something here for everyone.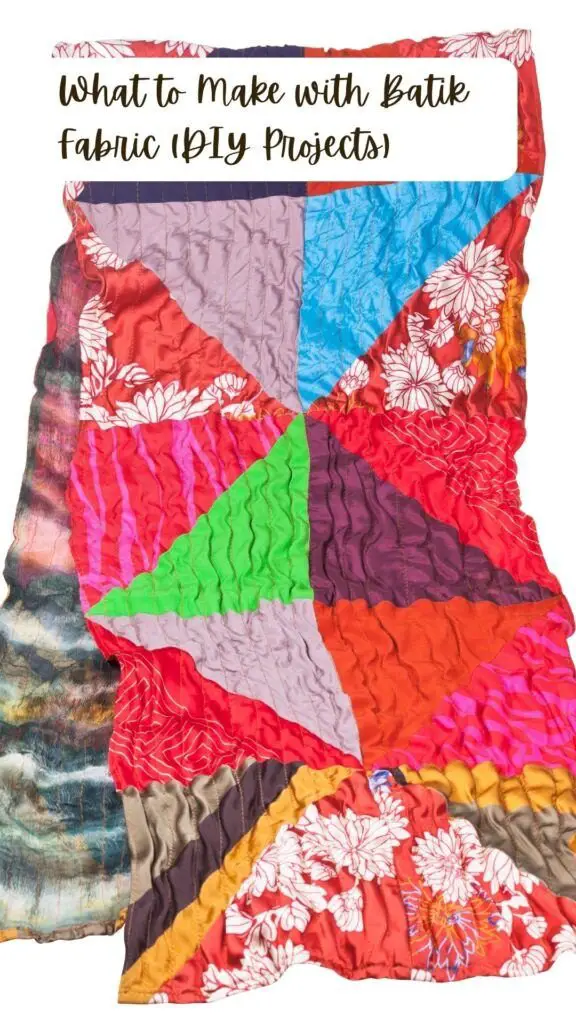 So grab your needles, thread, and fabric shears as we embark on this creative endeavor together!
What to Make with Batik Fabric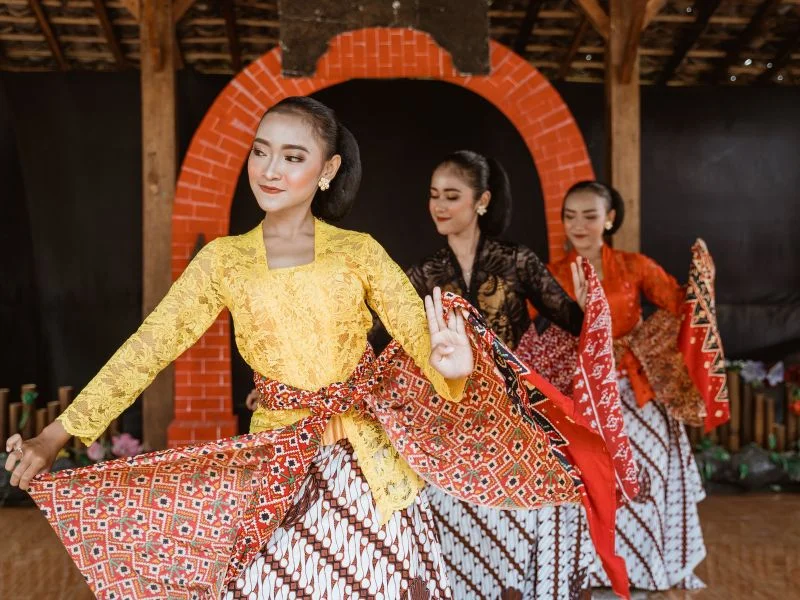 If you have some batik fabric in your stash, here are a few DIY projects you can try your hand at:
Clothing Items
Batik fabric is great for clothing items like dresses, skirts, tops, and scarves.
Home Decor Items
Add culture to your home with batik fabric home decor items. You can use it to make cushions, curtains, or table runners.
Accessories
Batik as a statement bag or add flair to your outfit with a colorful scarf.
Other
Some other ideas include wall hangings, quilts, and even lampshades.
7 Easy DIY Projects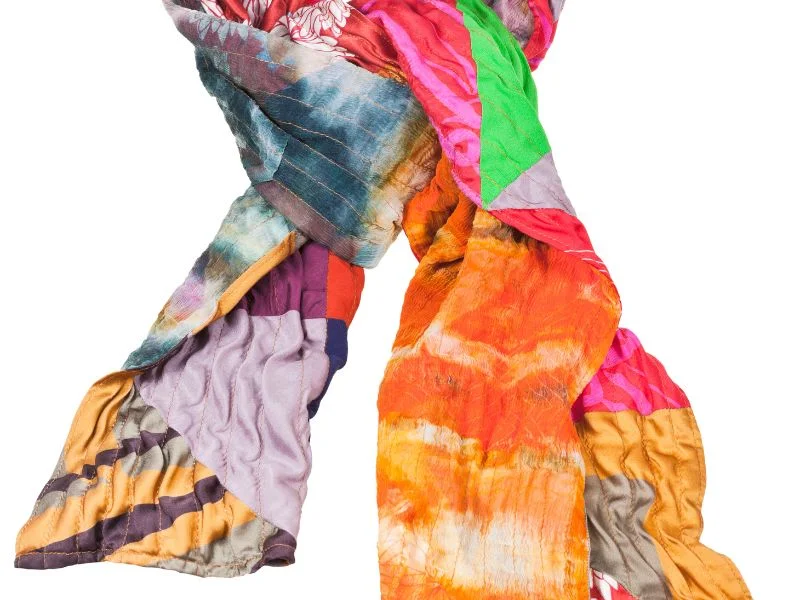 Are you looking for a creative way to express yourself and show off your crafty side? Let's try some of the projects below.
#1 – Batik Scarf 
Scarves are an easy and stylish way to add a little color and texture to any outfit. A batik scarf is perfect for making a bold statement without being too loud or over the top.
This project is great for beginners because it only requires basic sewing skills!
All you need to do is cut out two pieces of fabric in the desired shape (rectangle, square, triangle)
Then sew them together with a sewing machine.
Finally, finish off the edges with bias tape or hand-sewn stitches!
You have yourself a beautiful batik scarf! 
#2 – Quilting 
A quilt made out of batik fabric is an eye-catching piece that will surely become the centerpiece of any room. This project may require more advanced sewing skills, but the result will be worth it!
Start by choosing several different colors and batik fabric patterns that complement each other, then cut them into small squares or rectangles.
Next, arrange them into whatever pattern you'd like – diamonds, stripes, stars – then sew them together with a sewing machine.
Finally, use batting or flannel as the backing material and quilt all the pieces together by hand or with a quilting machine.
When you're done, you'll have a stunning quilt that will impress anyone who sees it! 
#3 – Batik Bag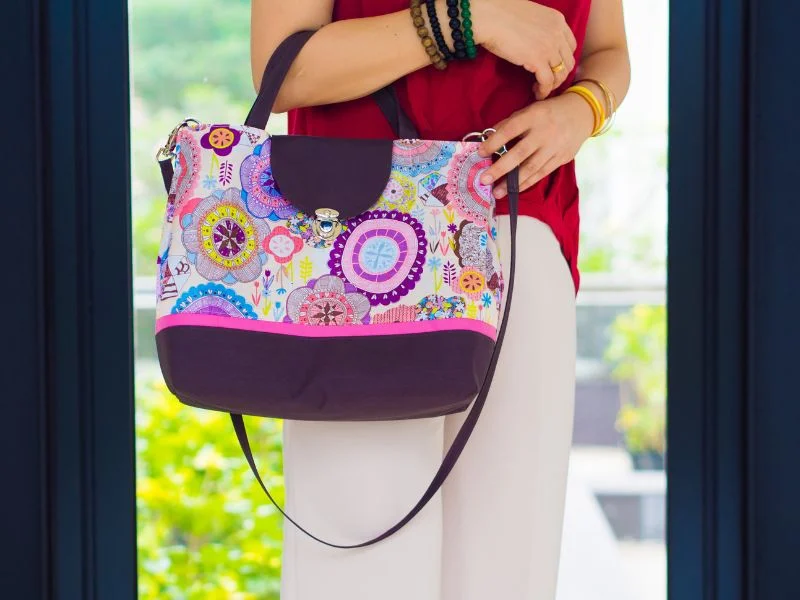 A bag of batik fabric is stylish and functional – perfect for carrying essentials like your phone, wallet, keys, etc.
Making one is easy too; all you need are two pieces of fabric (one for the outside panel and one for lining), some interfacing material for stability, two zipper pulls plus hardware like rivets or studs (optional), thread and needle (or sewing machine).
Start by cutting out two panels from the chosen fabrics
Then sew them together inside out so that the right sides face each other.
When finished, turn it right side out again before adding hardware like rivets/studs/zippers, etc., as desired.
#4 – Pillows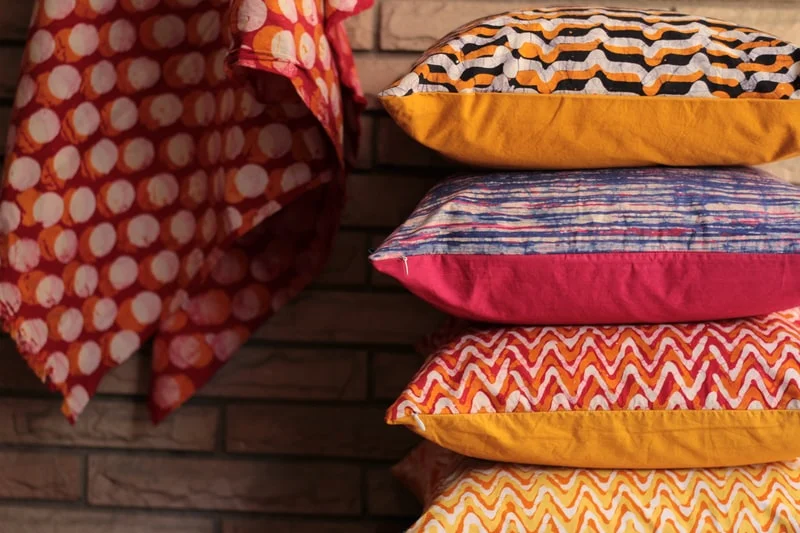 Batik fabric is perfect for making throw pillows because of its bright colors and intricate designs. Plus, it adds an extra layer of texture to any couch or chair.
To make your pillow, all you need is a piece of batik fabric cut into a square the size of your desired pillow. If you want, use contrasting fabrics on both sides of the pillow.
Then, sew around the edges and stuff it with cushioning material like foam or cotton batting.
You can also add tassels or other decorative features if desired. 
#5 – Wall Art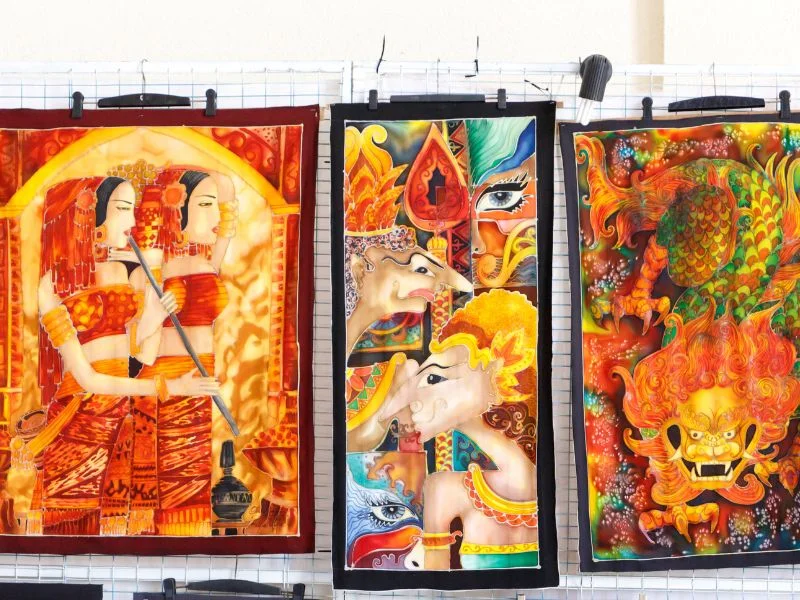 Wall art is an easy and inexpensive way to brighten up any space. Why not try making wall art using batik fabric? It's simple enough that anybody can do it!
All you need is a canvas or wood frame and some batik fabric cut into whatever shapes and sizes you want.
You can then glue the pieces onto the canvas in any design that strikes your fancy.
Add ribbons or buttons at the corners or between fabric pieces for extra flair.
The possibilities are endless! 
#6 – Blankets 
It comes in so many colors and patterns that you can find one that fits your style perfectly.
You can even mix multiple colors and prints to create something truly unique. If you want extra warmth, consider using an insulated lining or batting for the inside of your blanket. 
#7 – Table Runners and Place Mats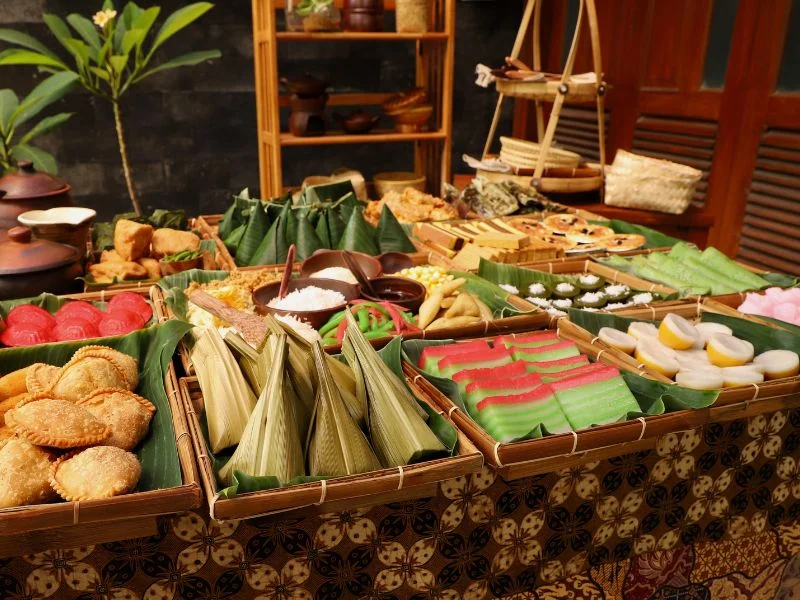 A table runner or placemats made from batik fabric can easily brighten your dining room table.
Since it only takes a few yards of fabric and basic sewing skills to make them, they are great projects for beginners too! 
About Batik Fabric
Batik fabric is an ancient Indonesian art form that utilizes wax and dyeing to create beautiful designs on cloth.
Hot wax is applied to the fabric, creating a pattern of resist areas that will remain their original color when dyed. The uncovered portions are then penetrated with pigment, providing an eye-catching contrast between the two hues.
Derived from the Javanese word meaning "dot," batik is an ancient art form that has its roots in dotting a fabric with wax.
Tips for Your DIY Projects
Start by choosing a color or pattern you love and use it as your inspiration for the project.
Look for batik fabric with lots of texture and depth, as this will help add more visual interest to your projects.
If you're new to sewing or quilting, practice first on some fabric scraps before diving into your main project.
If you're making clothing, accessories, or home décor pieces out of batik fabric, always make sure to wash and dry it before starting a project. This will help prevent shrinkage or fading later on.
Avoid getting wet or exposed to direct sunlight when working with batik fabric. This will help ensure that your fabric stays vibrant and beautiful for years!​
Making Batik Fabric with Crayons
Making batik with crayons is not difficult.
What You'll Need
A piece of cotton fabric
Colorful wax crayons
Black fabric dye (fabric spray paint color)
Black fabric paint
Brush
Muffin tin
Deep dish griddle
Newspaper
Iron
What You Need to Do
Create the Design:
Add crayon pieces to a muffin tin
Melt the crayons using a deep dish griddle. You can also use a microwave.
Brush the colors onto the fabric in your design.
Allow drying.
Add the Dye:
Crumple the fabric to create cracks in the wax.
Spray with black fabric dye.
Pat them down with paper towels to remove the extra dye.
Let them dry overnight.
Remove the Wax:
Place between layers of newspaper, and iron the paper.
Use an iron set at the highest, then iron out the wax. You will have to change the newspaper often until all wax is gone.
Finally, add a few details with a black fabric pen.
It is done. You can make a lot of things with your new batik fabric.
FAQs
Should you wash batik fabric before sewing?
Yes, you should wash batik fabric before sewing. The dyes used in batik fabric are often not colorfast, so they can run and bleed when washed.
Washing the fabric before sewing will help to prevent this from happening.
What fabric does batik work best on?
Batik can be worked on various fabrics, but cotton is the most common. The fabric should be medium- to heavyweight so that it doesn't easily snag or tear.
You'll also need a sharp needle and a good quality thread that will withstand the rigors of the batik process.
Can batik be used for furniture?
Yes, you can use batik as the upholstery fabric for your furniture.
You may also want to apply a protective finish or coating over the batik fabric, as this can help keep it looking new for longer.
Was this article helpful?