Batik fabric is popular for clothing, accessories, and home decor. It is known for its beautiful patterns and vibrant colors. However, what do you do when your batik fabric shrinks?
In this blog post, we will discuss the causes of shrinkage and some tips on fixing the problem.
Does Batik Fabric Shrink?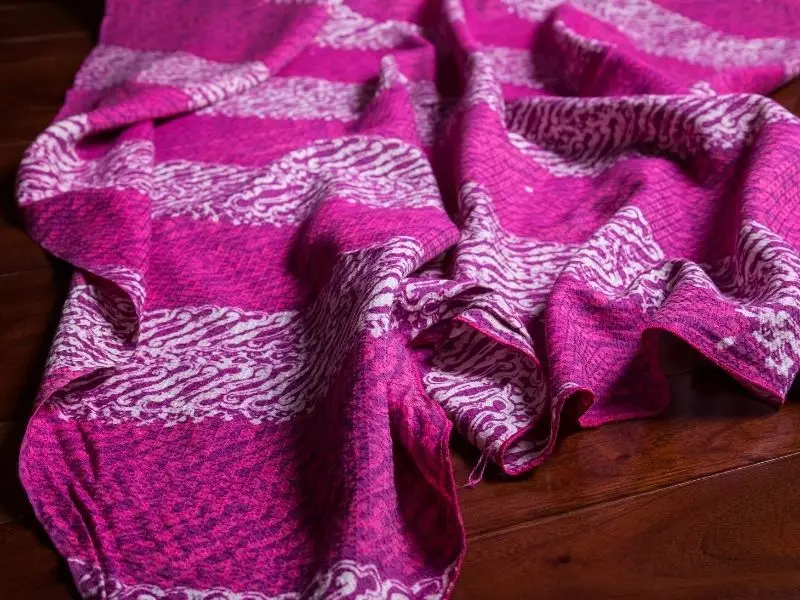 Does batik fabric shrink? The answer is yes. Beautiful batik fabrics are known for their vibrant colors and shrinkage.
If you want to buy batik fabric before starting the project, I recommend that you don't get impatient and buy a small piece of fabric first. This way, if it shrinks, you can always exchange or return it.
Remember that there is no guarantee of its size when buying batik fabric online because they all come from different manufacturers with varying standards.
Batik fabric shrinks: Why?
100% cotton or natural fibers
The main reason batik fabric shrinks is that it is 100% cotton fabric or other natural fibers. When you wash cotton fabrics for the first time, they will always shrink. This is because the fibers in the material are tightening up.
Batik material
Another reason your batik fabric may shrink is due to the quality of the material. If you buy a cheaper batik fabric, it is more likely to shrink than a higher quality one. The cheaper fabrics are not made with as much care and attention to detail.
Natural dyes
Batik fabric is a hand-woven cloth fashioned using waxed cotton threads and natural dyes derived from plants.
Batik fabric shrinks because the material is made of natural dyes, which are colored by being soaked in various substances such as water, clay, or ground leaves.
These substances react with the dyes on the cotton threads and cause them to darken over time. The darkening process also makes it more difficult for air to move through the thread fibers, resulting in shrinking fabrics.
No pre-wash or pre-shrink in the making process
If the batik fabric you purchased did not go through a pre-wash or pre-shrink process during its making, it is more likely to shrink.
This is because the wax and dye substances from the dyeing process have not been removed from the cotton threads, so they can still react and cause shrinkage.
What to Do When Batik Fabric Shrinks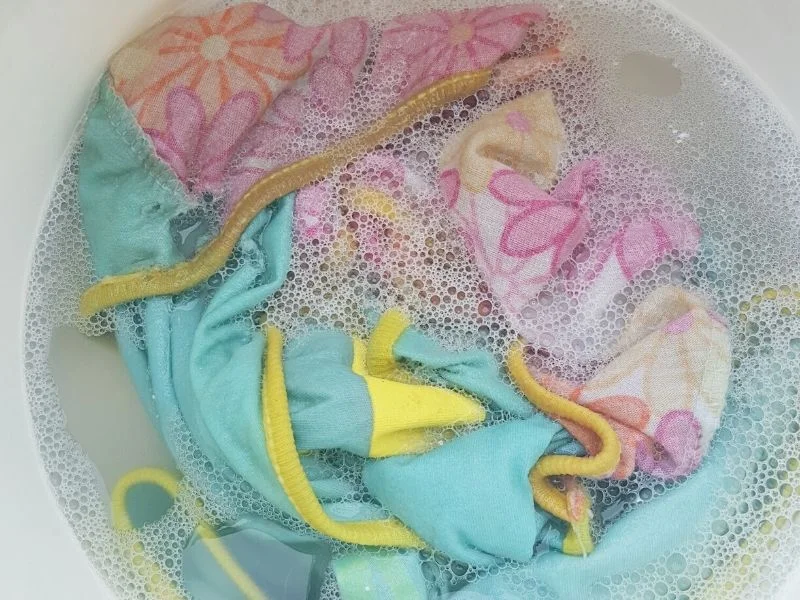 What should I do if my batik fabric has already shrunk?
If your batik fabric has already shrunk, then there are a few things that you can do to try and fix the problem.
One of the things you can do is soak your batik fabric in lukewarm water and gentle shampoo for about 30 minutes. After that, you can gently stretch the fabric back into shape.
Another thing that you can do is to iron your batik fabric on a low heat setting. This will help smooth the fabric and make it easier to work with.
Batik cloth unshrinking guide
If your shrinkage problems are caused by washing, you can try to unshrink it using warm water and baby shampoo or hair conditioner.
The conditioner loosens the cotton fibers of the garment, allowing them to be stretched back to their original shape.
Here are the steps:
Fill a sink or tub with lukewarm water and a capful of baby shampoo or hair conditioner.
Soak for up to 30 minutes. This is when the fibers will begin to loosen.
When the time is up, gently squeeze the water from the clothing without rinsing them.
Roll the fabric up in a towel, applying pressure gently to let out more water until the clothing is damp rather than wet.
On another dry flat towel, lay the clothing. Gently stretch it back to its pre-shrunk size as you lay it on the towel.
Allow the fabric to air dry.
How to prevent your batik from shrinking further in the future
There are a few things that you can do to prevent your batik fabric from shrinking.
Wash in cold water
One of the things you can do is wash your batik fabric in cold water. This will help set the colors and prevent the material from shrinking.
Dry in a low heat setting
Another thing that you can do is to dry your batik fabric in a low heat setting. You can also air-dry your batik fabric if you don't want to risk shrinking it.
Reactive Dyes
Many industrial batik manufacturers are working towards ensuring that their products can be manufactured and distributed to consumers. They have been trying to find a way to prevent the natural shrinking of the batik afterward.
They use reactive dyes, which react with the fabric after exposure to water or sunlight.
Batik shrinks as a result of natural processes such as oxidation and washing. Even after applying reactive dyes, it shrinks slightly due to biological processes in dyeing.
The reactive dye used by batik manufacturers is not 100% effective in preventing shrinkage, so other methods should also be employed, including using water-soluble dyes and baking soda to reduce shrinking risks.
Pre-wash your batik fabric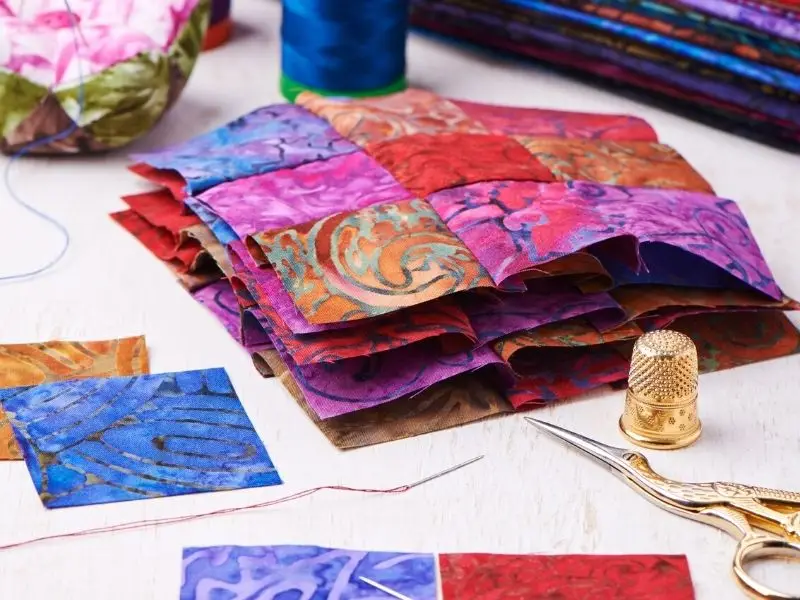 Batik fabrics contain wax and dye and require special attention before being used in quilting, crafting, or stitching projects.
We recommend washing all textiles to avoid shrinkage and possible color transmission.
It's worth the time to pre-wash and pre-shrink your fabric before sewing to avoid mishaps of the finished quilt or other batik projects.
For prewashing, you usually use Synthrapol and Retayne.
Synthrapol is a laundry detergent that removes the wax from your fabric, so the colors will stay true when you wash it with hot water and detergent.
Retayne is a color fixative that helps to keep batik colors from running. It does not remove the wax but keeps the dye from migrating and bleeding into other areas of the fabric.
To prewash your unwashed fabrics, fill a sink or tub with lukewarm water and add one tablespoon of Synthrapol for each yard of fabric. Gently swish the fabric around and let it soak for 15 minutes.
After that, rinse the batik fabric in cold water until the water runs clear. You can then wash it normally with hot water and detergent.
Once you have prewashed your fabric, you can dry it in a low heat setting or air dry it.
By following these steps, you can prevent your batik fabric from shrinking.
How to Wash Batik Fabric?
Batik is a delicate fabric and needs to be treated carefully because of its smooth texture. Soak the fabric in cold water and use gentle detergents such as soap or dishwashing liquid to wash it. You can use a wet cloth for the fabric's surface and then dry it with a dry cloth.
Why do you need to wash your batik fabric carefully?
Batik fabrics are made from natural dyes and need special washing instructions to keep them in good condition. Here are some tips on how to wash your clothes.
Batik is mainly used in Indonesia for its rich cultural heritage and textile tools.
Women traditionally created batik, which has been around for more than 500 years. Women have access to natural dyes to create vibrant patterns on their fabric.
Batik is a patterned cloth made of a layer of dye applied, then another layer of fabric has been used with a different dye. This process is repeated many times until the desired design is achieved.
People can create batik with many different colors or patterns, such as reds, oranges, greens, and browns but the most.
How do you clean white and gray batik fabrics easily?
Batik fabrics are usually made from natural fibers – like cotton, linen, and silk. These materials are tough and can only be cleaned with a special detergent.
Knowing the best way to clean white and gray batik fabrics is essential.
White and gray batik fabric is more challenging to clean because they're made from different fibers with other properties.
You should use a strong detergent for white batik fabric like hand soap or bleach. This process will not damage the dye in the material but will make it easier to find any stains.
If there is a spot of dye on your white batik fabric that you cannot remove, try using baking soda or a lemon juice mixture instead of bleach or hand soap.
What type of detergents and softeners work best for batik fabrics
Batiks are a popular fabric often made from natural fibers like cotton, linen, or silk. Often these fabrics can be prone to wrinkling and tearing if not dried in suitable materials or put into the wrong detergents.
Detergents recommended for batik fabrics are typically gentle and low, so the fibers don't become tangled.
Many types of detergents and softeners would work well with batik fabrics. One standard recommendation is to use a low-sudsing detergent to reduce tangling risks.
Batik fabrics may require more care than other types of clothing because they have more natural fiber than synthetic ones.
A quick guide for washing cotton & cotton/batik mix fabrics
Washing cotton and cotton/batik mixes is always tricky, and there are many ways you can go about it. Depending on the material, you might need to use soap or detergent or just cool water.
Your Batik Being Irregularly Woven or Stretched Too Thin
How to recognize if your batik is irregularly woven or stretched too thin?
In terms of batik, it is the pattern of threads on the cloth that is what distinguishes one from another. If a batik continually alternates between two colors, it is not woven in an irregular pattern.
People may cheaply buy batik wear at shops or online, but one should always check the quality before purchasing. Batik that appears stretched thin makes it look old and uneven because of how the color has been distributed on the cloth.
If you want to know if your batik is irregularly woven or stretched too thin, observe the pattern of threads alternating between two colors. If it does so continuously, your batik is not irregularly woven, and its quality will be okay.
How to reinforce an irregularly woven or too thin stretched with a thread?
It is essential to reinforce a woven or stretched fabric with thread to be more robust and durable.
However, using a thread in an irregularly woven or stretched fabric might cause the weave to pull tighter than usual.
You can use a needle and thread, a lighter-gauge yarn, or a hot iron to reinforce the woven fabric. You must keep the tension relatively even on both sides of the knit.
What Can I Make with Batik Fabric?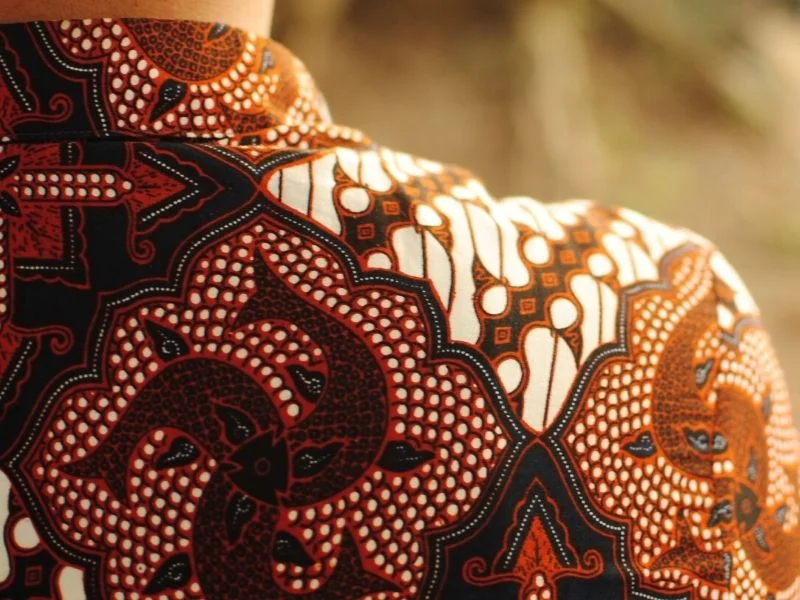 Batik fabric clothing
Batik clothing is not only comfortable but fashionable as well. You can make various clothing items with batiks, such as shirts, dresses, skirts, and pants.
Batik fabric is suitable for clothing, but you can also use it to make other items such as bags and purses. The possibilities are endless.
Batik silk fabric
Batik silk fabric is one of the most popular types of batik. It is often used to make sarongs, scarves, and other clothing items requiring softer material.
Silk batik fabric looks more elegant with its texture and sheen. It is also less likely to wrinkle than other types of batik fabric.
Where Can You Buy Batik?
Batik fabric online store
Online is the best place to start if you are looking for batik fabric. You can find a wide variety of batik fabric at an online store.
One of the benefits of buying batik online is that you can often find discounts and sales. Another advantage is that you can buy in bulk and save money.
Batik fabric manufacturers
If you are looking for high-quality batik fabric, you should consider buying from a manufacturer. Batik manufacturers often have a wide selection of batik fabrics to choose from.
They also usually sell at wholesale prices, so you can save money if you buy in bulk.
FAQs
Do batik fabrics shrink?
Yes, batik fabrics can shrink because they are made from natural fibers. To avoid this, you should prewash your batik fabric before using it.
Can you put batik fabric in the dryer?
Yes, you can put batik fabric in the dryer. However, you should use a low heat setting to avoid damaging the fabric.
Can you machine wash batik?
Yes, you can wash batik using a washing machine. However, you should use a gentle cycle and a mild detergent to avoid damaging the fabric.
Can you iron batik fabric?
Yes, you can iron batik fabric. However, you should use a low heat setting to avoid damaging the fabric.
If wax remains in the cloth, it will come out when ironed. Be sure to place a clean but valueless cloth on each side of the batik while pressing it.
Batik washing instructions
We recommend hand-washing in cold water and mild detergent to wash your batik. Gently squeeze the suds through the fabric and rinse well in cool water. Lay flat to dry. Do not wring or twist.
If you have a pressing cloth, use it to press out excess moisture before hanging to dry. Your batik will last longer if you store it unfolded.
How to soften batik fabric
There are a few things you can do to soften batik fabric.
One is to use a fabric steamer; this will help loosen the fibers in the fabric and make it softer.
Another is to place the fabric in the sun; the heat and UV rays will help to soften it.
Finally, you can soak the fabric in water and apply a mild soap before rinsing thoroughly.
Be sure to squeeze out as much water as possible before drying flat.