Did you know that batik designs can be incorporated into sarees to create stunningly unique looks?
Whether you're looking for a subtle touch or a bold all-over design, accessorizing your saree with batik will take your outfit up quite a few notches on the style meter.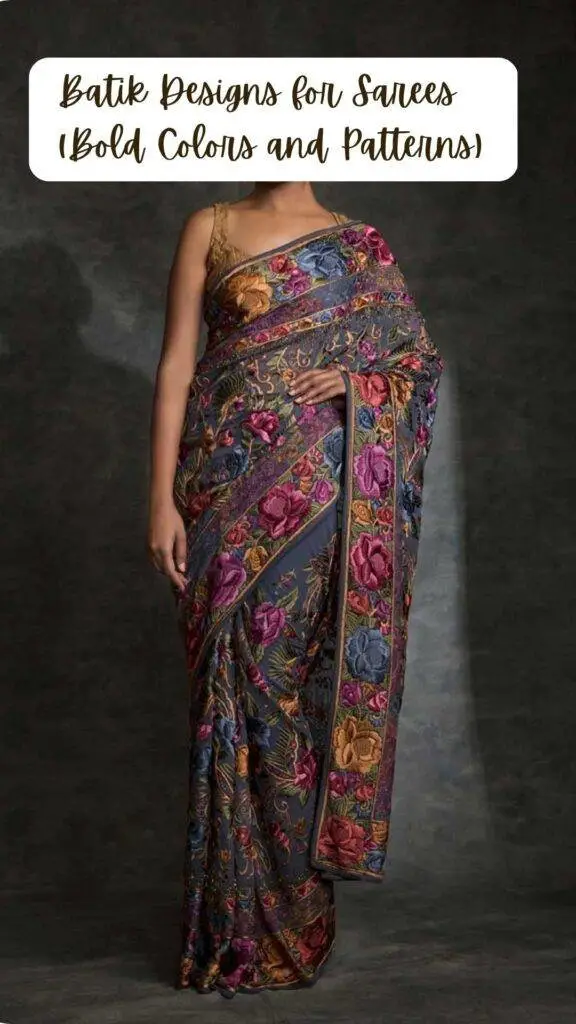 So come along, and let's explore some gorgeous ways to give our saree a fun and sophisticated upgrade!
Why Use Batik for Sarees?    
Batik fabrics are perfect for making sarees because they add texture and depth to an outfit without being too flashy or loud. The vibrant colors of the fabric also help make your saree stand out from the crowd.
Additionally, since each piece of fabric will be slightly different due to its handmade nature, no two sarees will look exactly alike – making them truly unique! 
Batik Designs for Sarees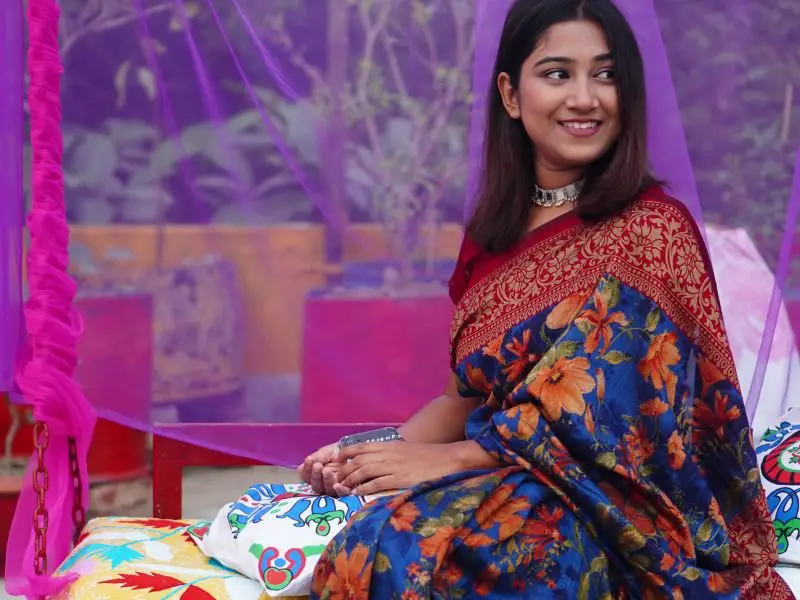 Type of Batik Fabrics
Three main batik fabrics usually used for making sarees are hand batik, block-printed batik, and printed batik.
Traditional Hand-Dyed Batiks 
The traditional hand-dyed variety is the most common type of batik fabric used in sarees. This type of batik fabric is created by applying melted wax to the fabric before it is dyed.
Once the wax has cooled, the fabric is submerged in dye baths and removed once it has achieved its desired color. The wax must be removed before it can be used as a garment.
The result is an intricate pattern with vibrant colors that can't be achieved any other way. 
Block Printed Batiks 
Another type of batik fabric commonly used in sarees is block-printed batiks. This method involves carving designs into wooden blocks, which are then pressed into the cloth to create an image or pattern on the material.
Each block represents one color, so multiple blocks are needed to create more complex designs.
Block-printed batiks tend to have bolder and brighter colors than traditional hand-dyed batiks because they use more concentrated dyes and no waxing process. 
Machine Printed Batiks 
The last type of batik fabric often used for sarees is machine-printed batiks. As opposed to hand-dyed, machine-printed batiks are created using large printing machines that apply dyes directly onto the cloth using a stencil-like process.
While this method results in less intricate patterns than either hand-dyeing or block printing, it produces bright colors with sharp lines, which makes them great for modern designs.  
This type of batik is also cheaper, so it's a great choice if you're on a budget.
Batik Designs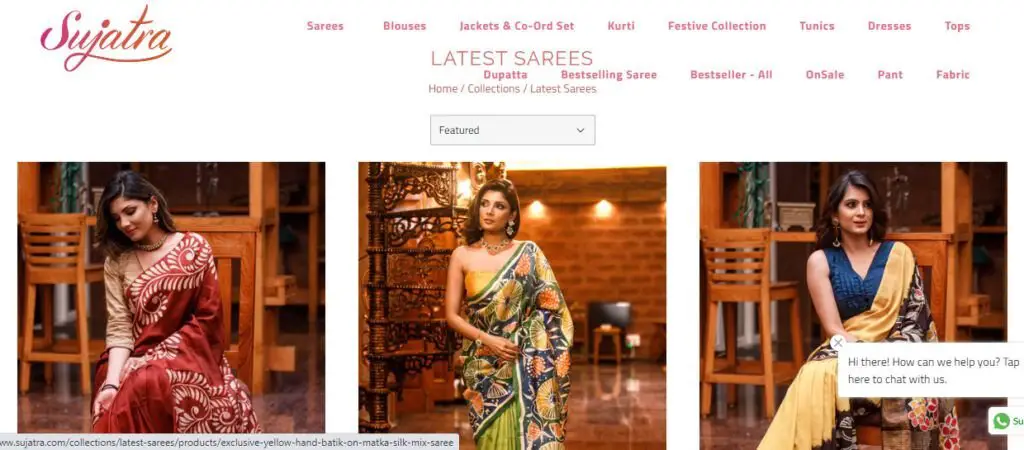 The Traditional Look
Traditional batik saris are the way to go if you want a classic look sure to turn heads.
These styles usually feature bright colors and intricate designs, such as flowers or paisleys that are hand-dyed with wax. The result is an eye-catching garment that will make you look elegant and stylish. 
Modern or Contemporary Designs
Many contemporary batik designs are also available for those who prefer a more modern approach. These sarees often feature bolder colors and patterns created using digital printing techniques.
They can also be made from lightweight materials such as chiffon or silk, making them perfect for wearing during hot weather. 
Festival Styles
For those attending a festival or outdoor event, there are plenty of fun and festive options for choosing a batik saree. While traditional designs still work great here, why not try something new?
Many vibrant and colorful saris are now available with intricate prints inspired by nature or featuring cartoon characters or other iconic images. They make the perfect statement piece! 
How to Wear Batik Sarees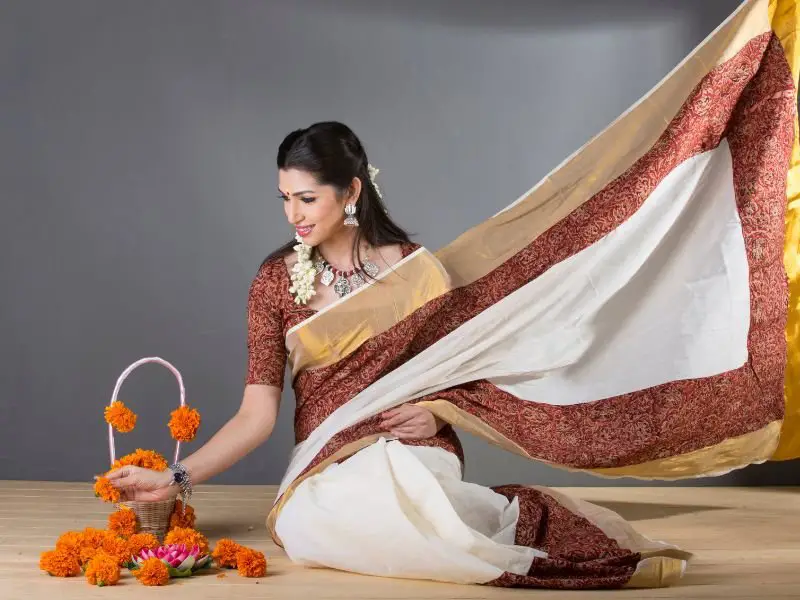 About Sarees
Sarees are traditional Indian garments that consist of six yards of flowing fabric draped around the body in various ways.
A batik saree is simply a regular saree made with batiked fabric instead of plain cloth – making it an eye-catching addition to your wardrobe!
They can be worn casually with flats or dressed up with heels and jewelry, making them perfect for everyday occasions and formal events! 
Styles
There are so many options for wearing sarees with batik designs!
Try pairing a simple block-printed saree with minimal accessories like small earrings or a delicate necklace for a subtle yet stylish look.
For a more eye-catching look, go all out with bright colors and intricate patterns – think kalamkari or canting styles – paired with colorful jewelry or even statement shoes.
And if you want to turn heads? Try pairing your saree with bold makeup that looks like winged eyeliner or red lipstick!
The possibilities for wearing batik designs are endless – just let your imagination run wild! 
Types of Fabrics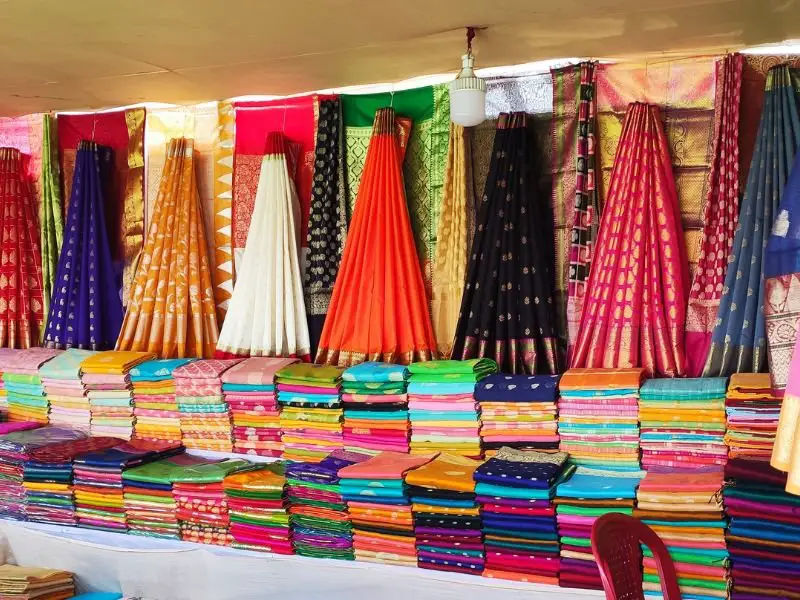 Let's take a look at some popular fabrics used in sarees!  
Silk 
Silk is probably the most popular fabric used in sarees. It has a luxurious feel and looks, making it perfect for special occasions.
Silk sarees come in several varieties, including raw silk, organza silk, crepe silk, georgette silk, and more. Each type of silk has unique characteristics that make it stand out from the rest. 
Cotton 
Cotton is ideal for everyday wear because it's lightweight and breathable.
Cotton sarees are typically hand-woven and come in bright colors and fun patterns that make any outfit pop! Plus, cotton is easy to maintain and doesn't wrinkle easily, making it perfect for those hot summer days.
Chiffon 
Chiffon is an extremely lightweight fabric that gives off an elegant vibe.
Chiffon sarees are typically either sheer or semi-sheer, so they're perfect for special occasions where you want to show off your curves without sacrificing comfort. Plus, chiffon comes in various colors – so you can find something to match any outfit! 
Synthetic Fabrics 
Synthetic fabrics such as polyester and nylon are becoming increasingly popular due to their affordability and versatility. They come in various colors and patterns, making them perfect if you want something eye-catching yet still budget-friendly.
Synthetic fabrics are also less prone to wrinkles than natural materials like cotton or silk, making great travel companions too!
However, they don't absorb sweat well, so they may not be the best choice if you live in hot climates or plan on wearing your saree all day long in the summer months.  
How to Care
To care for a batik saree, it is best to hand wash the garment in cold water with mild detergent.
Avoid using hot water or harsh detergents, as these can cause the wax in the fabric to dissolve and the colors to fade.
After washing, gently squeeze the water out of the saree and hang it to dry.
Avoid wringing or twisting the fabric, as this can cause the wax to crack and the colors to run.
Once the saree is dry, iron it on the lowest heat setting, or use a pressing cloth to protect the fabric.
Where to Buy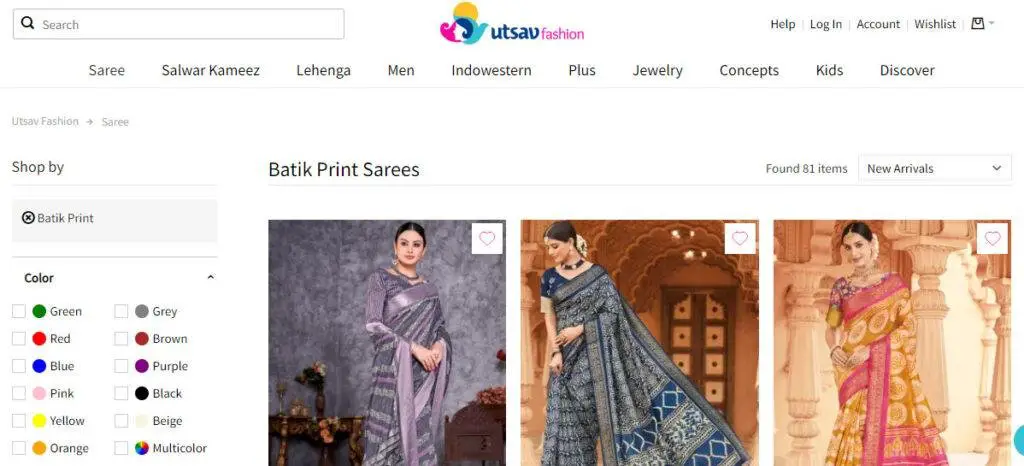 Why Buy Batik Sarees? 
Batik sarees are not only beautiful but also incredibly versatile. They can be dressed with embroidery and ornamental embellishments or kept minimalistic and understated.
They can also be worn for any occasion, from a formal event to an everyday get-together. And if that wasn't enough, they are also made from natural materials like cotton and silk, making them comfortable and breathable too! 
Online vs. Offline Shopping 
Each option has pros and cons when buying batik sarees online versus offline.
Shopping online allows you to browse through hundreds of designs at the click of a button, while shopping in stores gives you the added benefit of touching, feeling, and trying on different pieces before making your purchase. Ultimately, it all comes down to personal preference! 
Where to Buy the Best Batik Sarees 
Now that we know why we should buy batik sarees and how we can shop for them let's take a look at where we can buy them from.
When shopping online, some great options include websites like UtsavFashion.com, Mirraw.com, or Sujatra.com, which offer a wide range of designs at great prices.
If you prefer shopping in stores, then India is the place for you as it's home to countless boutiques offering stunning handcrafted batik sarees made with love by skilled artisans. 
Was this article helpful?